DAYTRIP: Porvoo
Kisses and Independence in Porvoo
The Diet of Porvoo in 1809 began the development that led to the birth of an independent Finland a little over a hundred years later. The most succulent chocolate kisses also come from the town in great numbers.
When a Helsinkian wants to visit somewhere that is nearly abroad, Porvoo is the destination. The second oldest city in Finland can be reached by car, coach or, if you like to travel in luxury, by steam boat. A historic steam train also takes visitors to Porvoo from Helsinki seven times this year.
Porvoo is a small city with a strong ego, and why not: the national poet of Finland, Johan Ludvig Runeberg, wrote the poem Vårt Land [the lyrics to the national anthem] in his Porvoo home in 1846. Swedish Finland and the Swedish language are still strong in Porvoo.
The first thing a visitor sees in Porvoo is the greystone cathedral. It has brought up the citizens in the nurture and admonition of the Lord since the 15th century. The church hill is surrounded by houses and courtyards built between 1760 and the 1820s. They are unbelievably cute. The winding cobbled streets in the midsts of the low wooden buildings and the city plan itself are truly mediaeval.
The prices of the diligently restored wooden houses are as dear as prices in Helsinki. Old Porvoo has become a popular place to find oneself, downshift and live one's dream. Some 700 people regularly live in Old Porvoo.
The distinguished residents of Porvoo appreciate good coffee and pastries. While the Runeberg Cake is seasonal in the rest of the country it is available throughout the year in Porvoo. French confectionery art is also alive in the town and the display case in Café Postres is breathtaking.
However, perhaps the biggest favourite, especially for school kids is (forget history!) the Brunberg sweets factory! The Alku caramels, truffels and chocolate kisses made by the deeply loved sweets factory are alone worth a visit to Porvoo, even for older generations.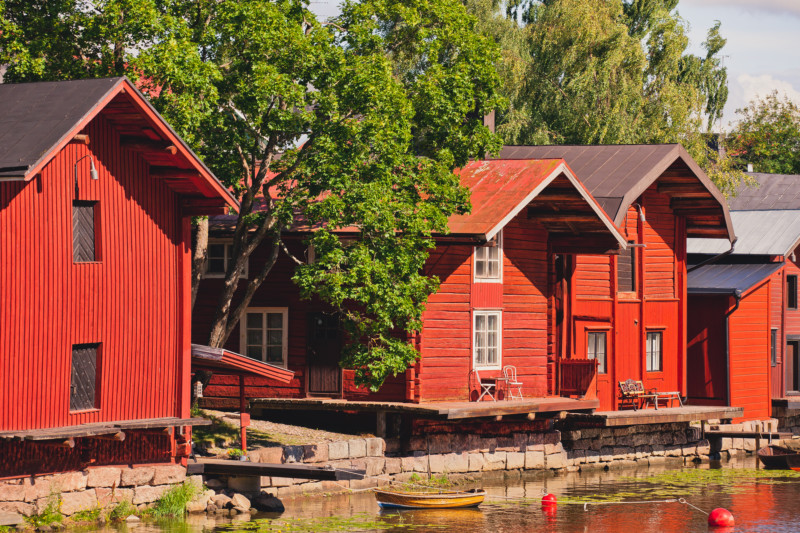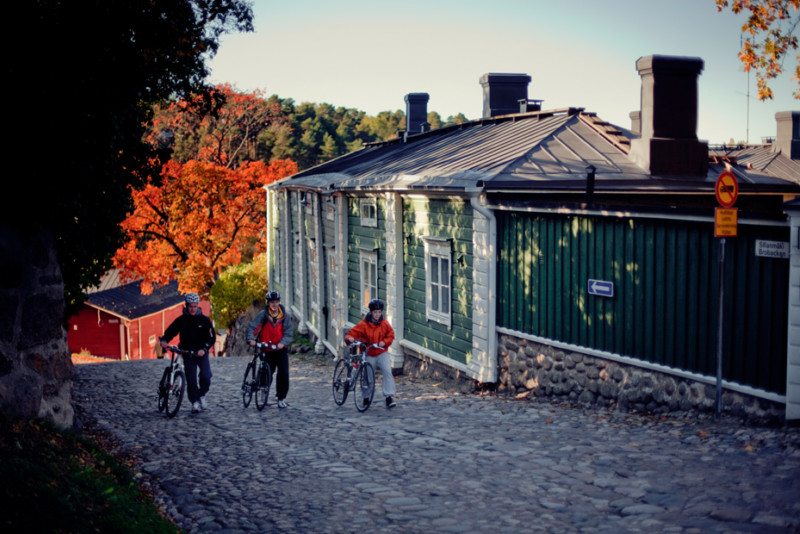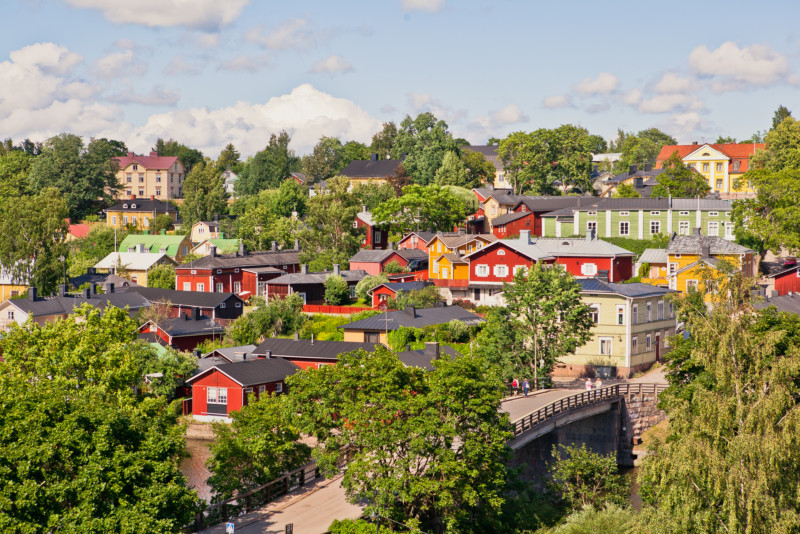 Put on your sensible shoes: there are plenty of uphills and downhills in Porvoo.
The red granaries by the river are one of the symbols of Porvoo. Some of them house cafés but most of them are still in private use.
How to: A coach from Kamppi to the Porvoo coach station leaves several times an hour. The journey takes about an hour. Circa 9 euros for a single trip. By car: Around 40 minutes from the centre of Helsinki. By train: A museum train to Porvoo operates on 9.12.2017.