MUSIC FOCUS: National Opera
THE MOST MAGICAL FLUTE
Everyone loves The Magic Flute and therein lies the problem. The music is familiar, the story is familiar, and some think they are all too familiar. The Magic Flute by The Finnish National Opera surprises. Apart from the story and the music everything else is something that has never been seen before.
The Australian born director Barrie Kosky wondered how he could realise his vision of The Magic Flute. Then he bumped into a British artist group 1927, whose visual imagery struck a chord, and so a version of The Magic Flute, in which animation plays a great role, was born.
The storytale forest has been put to one side and in its stead gigantic animations are projected. The Magic Flute takes the viewer on a spectacular fantasy voyage. The performance is set in the style of 1920s two-dimensional silent cinema with bits of 18th century copper drawings and contemporary comic book imagery thrown in.
During the second act the magical visions become ever more awe-inspiring. The skillful synchronisation of the moving images and the music is truly impressive.
Originally made for the Komische Oper Berlin, Kosky's version of Mozart's The Magic Flute is characterised by 1920s cabaret. Silent films and Buster Keaton's world became a backdrop when they decided to include the spoken parts of The Magic Flute as subtitles in the style of silent films.
Animation technique has been played about with before in the world of opera but Kosky's The Magic Flute is the first opera where cinema and animation are used from beginning to end.
No matter how amusing the Berliner Magic Flute is with all of its cabaret frolicking and visual comedy, the Berlin of the 1920s also shows its dark and grotesque sides in the performance, and so it should, as The Magic Flute has always had its dark side.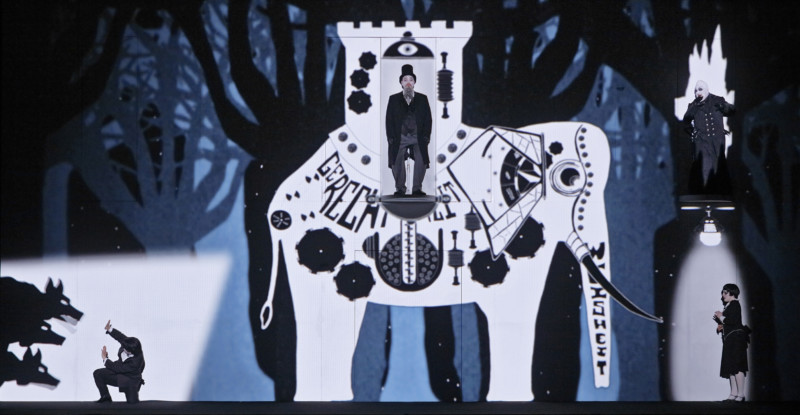 I WISH IT WAS ALWAYS MIDSUMMER!
Love – or desire really – knows no boundaries, better yet, it is enhanced by Midsummer magic and love potions. That is exactly what happens in the beloved and lovable amoral comedy A Midsummer Night's Dream where faeries and humans alike adventure, and love interests keep changing. Such a wonderful bedlam! No wonder that the play has frequented in theatre repertoires for over 400 years, and its story also offers an endless treasury for a choreographer.

The internationally renowned choreographer Jorma Elo has been inspired by the many-layered events of the play as well as Felix Mendelssohn Bartholdy's music for the play. The result is a fun and insightful piece that requires skill from the dancer and does not leave the viewer out in the cold. Elo was awarded with the dance world's Oscar, Benois de la danse, when the Vienna State Opera premiered it in 2010.