Protagonist: Eero Aarnio
I'm at my best now
Age is not a hindrance when you have energy and ideas. Professor, designer Eero Aarnio compares his job to climbing up a staircase: every piece teaches him something new. Eero Aarnio's extensive retrospective is open in the Design Museum until the end of September.

"Look, isn't this great", says professor Eero Aarnio about a new prototype. A white formula car for speedy toddlers is on the floor. Even a small car needs the element of speed, forwards, avanti.
This is Eero Aarnio at his purest; always something new, a candid joy of discovery. No need to look back decades at the Ball chair, Bubble chair and Pastil chair. They were created then but now a new time and world await. The latest work is always the most interesting. Aarnio is working on several projects as we speak.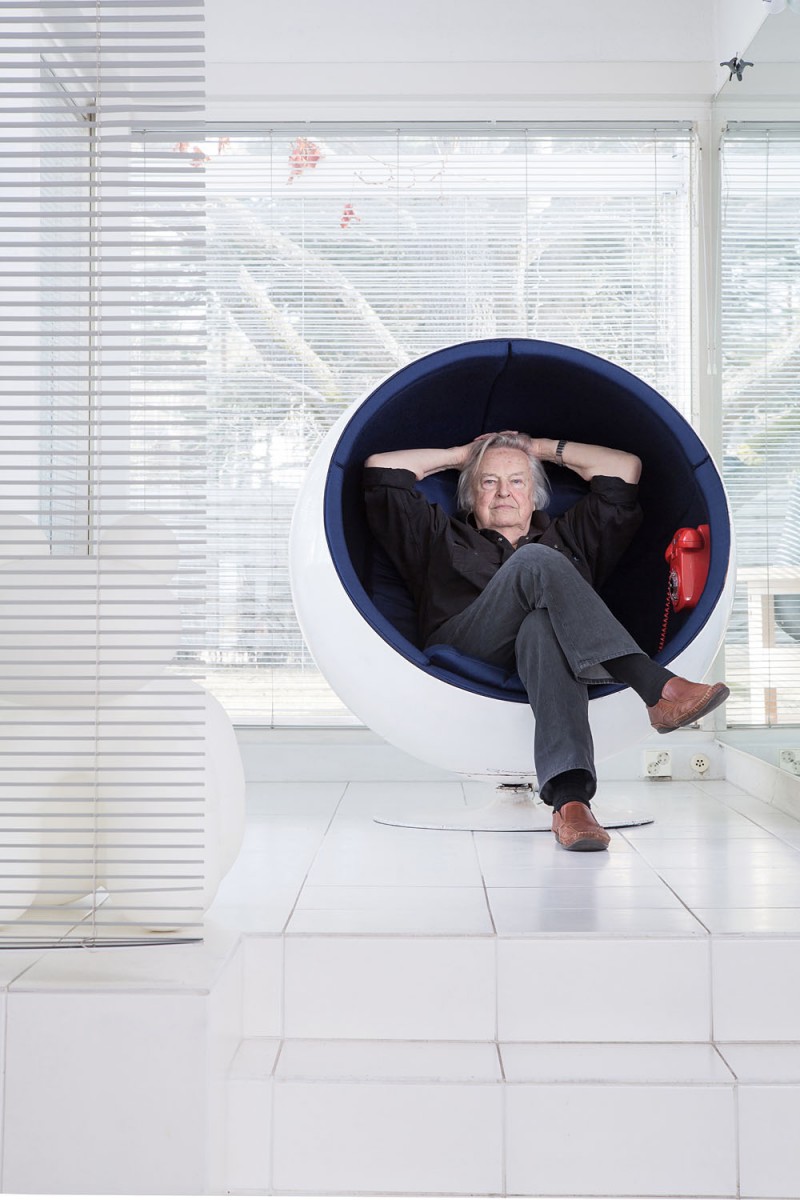 AT HOME WITH THE ARTIST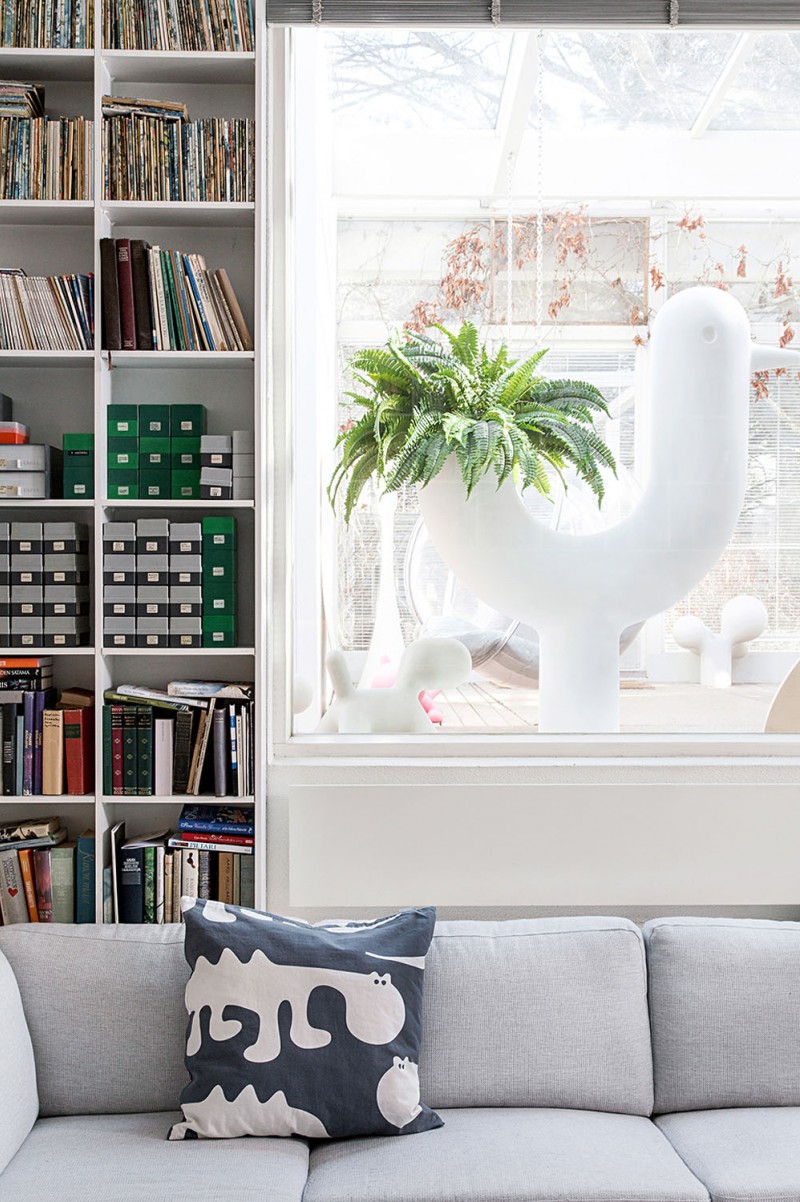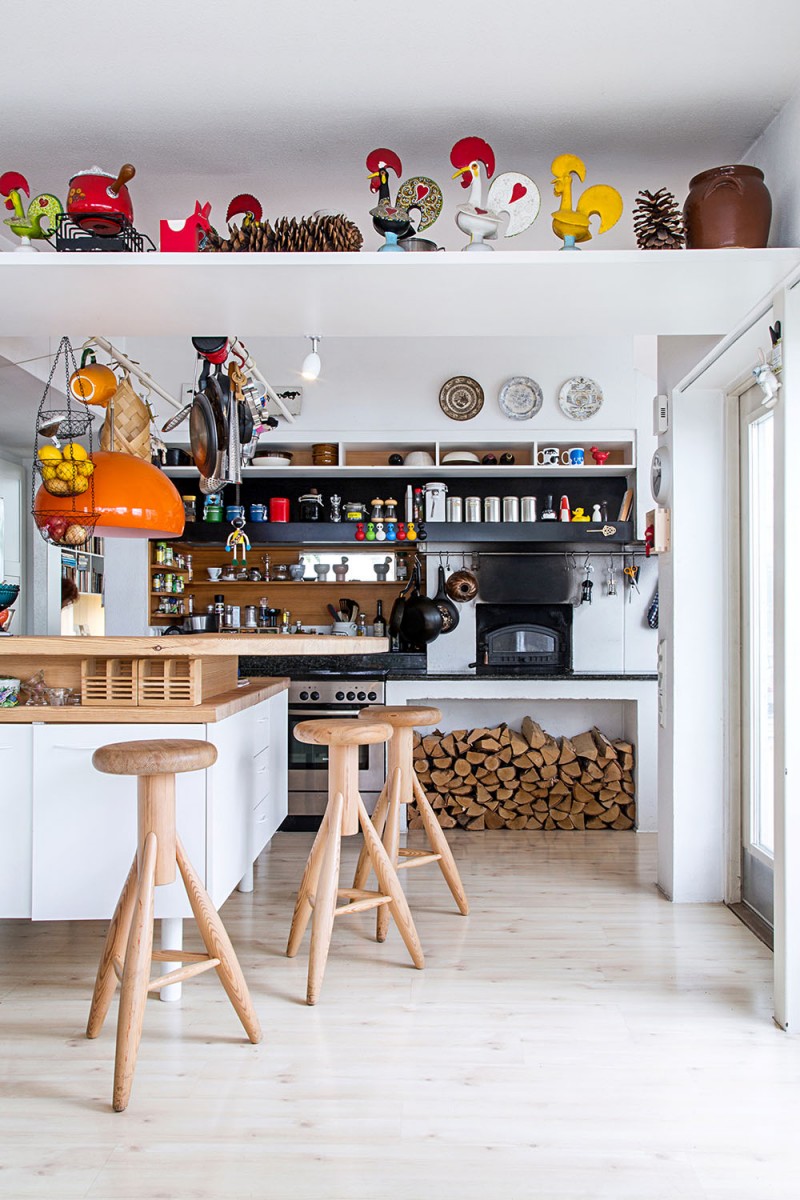 Protagonist: Eero Aarnio
—I become more skilled by the day, not much goes wrong anymore, Aarnio, 83, laughs. Aarnio's office at your service: reliable, quality design for the whole world since 1962. Nothing inhibits or restrains a designer. There are now more possibilities, new materials and methods that interest more than ever.
—I co-operate with Italians and Spaniards. I spend time at the factory, watching and asking. They show me everything and I get to learn all the time. Valli & Valli, Sierralunga, Magis and Alessi are Aarnio's partners in Italy whereas he co-operates with furniture manufacturer Vondom in Spain. Aarnio's first successes in the 1960s were made of plastic, which was as new and exciting a material as the decade itself. Rather than fading out the old love now has new dimensions.
—Plastic is as exciting as it is flexible. You can shape it into anything you like, says Aarnio. Good design is physically and aesthetically functional rather than dependent on material and equipment.
—I always say that the best design museum in Helsinki is the National Museum. Primitive instruments offer brilliant solutions to problems. The [7,000-year-old] elk-head sculpture found in Huittinen, Western Finland, is a beautiful and functional object. It is strong Finnish design. Eero and Pirkko Aarnio's home in Veikkola is full of light and Eero's work from different periods. Juttu stools are happily situated together in front of the fireplace, while Ponies are grazing next to them and a colourful pack of Puppies by the large windows is guarding the property.
—Look at that little green man over there. It's brand new, a recently laser-printed Mr Evergreen watering pot. I thought that we ought to make a windowsill gardener. It feels absolutely gorgeous, why don't you try it, Aarnio suggests. It does. Eero won't run out of ideas, they never seem to run out. Creativity is a boundless world.
—Of course I won't. Neither do I ever stop feeling hungry. Along his head the most important tool for Aarnio is the pencil. It is the fastest route from brain to paper. He uses dozens of pencils and an electric sharpener does not last for more than two years in his use.
—I do everything by hand as drawing furniture is like drawing a live model. Drawing is instinctive to me, I don't have to measure an inch. His works are on a large desk with a view of a lake. Light and nature flow into his study.
—My work is like an imaginary map with many sheets of paper on top of each other. I draw and correct. I draw patterns that look like nothing to start with. I fix the sheets to the table with pins and redraw again and again, sometimes I blow up the drawings with a photocopier. This is how I find many ideas. The only problem is a very practical one. The tapering pins used by architects are no longer available anywhere.
—I only have two left. If you have any, I'll gladly take them, Aarnio grins. Aarnio is not keen on going back to his older works yet the retrospective show in the Design Museum made him look through his old drawings. The trip back in time still makes him laugh out heartily.

—I should say they are fairly rudimentary although I was already 30 at the time. I had a lot to learn both about drawing and textwise. It's all very different now. Now I'm at my best. It's like ascending a flight of stairs, I learn from every work. If I make a mistake I won't make it again. Aarnio is precise and demanding both to himself and others. Everything has to be in its place in a piece of work.

—Absolutely. It's the key to success. You can't send a washout into the world. This is a one-man business and I like product design. I like it more and more as I get more skilled. Certainty grows with age. During the past decades something irritating has appeared in the world of design: copies and fakes. When a product becomes well-known and expensive enough, copies appear. A genuine, Finnish-made Ball chair will set you back nearly 8,000 euros, yet several online shops sell them for a fraction of the price. It is exactly the same with many other products.
—What is more the quality of the copies is awful and they have my name on them. An acquaintance of mine visited a factory that puts out a hundred Ball chairs a month. If the copies weren't enough they make completely new products in my name, Aarnio scolds.
—There's nothing you can do about copycats, not even big American companies can. I really hope the culture changes and they start making their own products. There is a good example, of course, Eero says. Generation after generation find Eero Aarnio's works, which delights the designer. There was a great increase in interest at the beginning of the 21st century when the fashion and design world discovered the joys of the colours and shapes of the 1960s.
—Perhaps I have found something genuine. Design is the solving of a puzzle. A chair usually has four legs, the Pastil has none. I believe there is no point in starting from what's there or believing in the obvious, you have to think for yourself, Aarnio explains. Eero Aarnio's design can be encapsulated by saying that nothing human is alien to him. He has not designed a car yet but as a passionate driver he is very interested in the idea. Aarnio says he admires the French-American industrial designer Raymond Loewy, who was at his time a super designer and his works are still alive and well.
—In the early 1960s I wanted an internship with Loewy. He was the undisputed number one in the design world: he made the Coca-Cola bottle, the Shell logo, cars and locomotives. I thought I could learn a lot from him. I sent a letter to him in America. There was no answer. I sent a letter to Paris, no reply either, Aarnio says. Because Aarnio's own international career lifted off at the same time, the matter was left behind. The brain teaser is interesting however, what a year with Loewy could have given Aarnio, now that he has everything.
—Loewy was a brilliant all-around designer, he made prints as well. He was bloody good at everything, Aarnio says. Eero dearest, this sounds very familiar. Loewy's brilliant and prolific career also spanned over 70 years. Getting there, way to go, Eero!
FIVE FAMOUS PIECES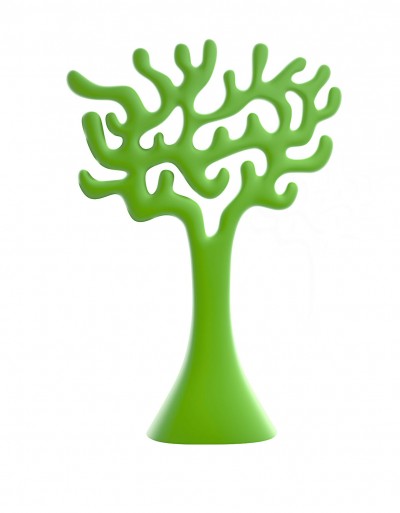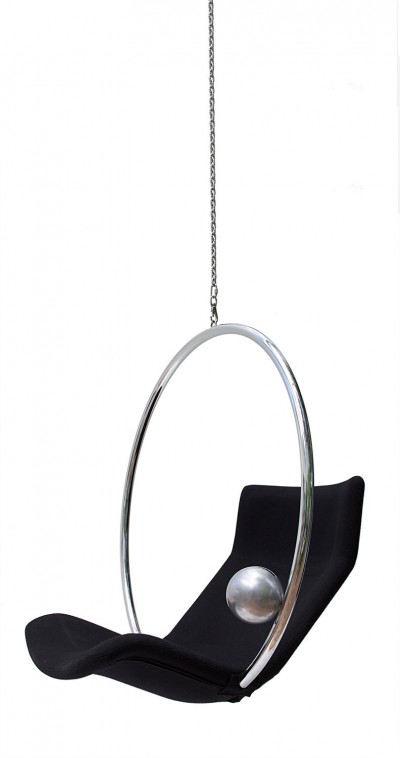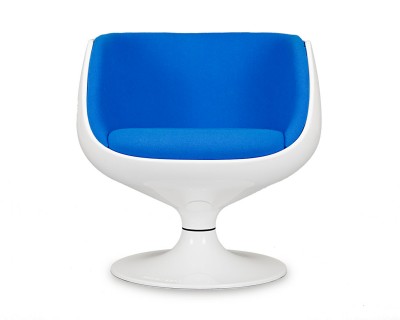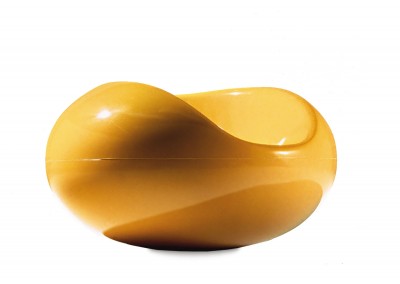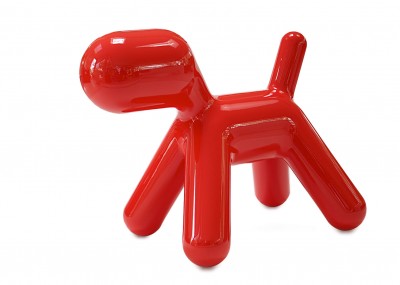 The Tree (2008), like many other playful objects designed by professor Eero Aarnio, is as functional as it is a piece of art. The tree of paradise may be used as a room divider, a coat stand or for storing knitting yarn. Just add an apple.
Put a Ring on it. The free-hanging, ceiling-attached Ring (2009) refers to two earlier works by Aarnio, the Bubble (1968) and Keinu (2003). Aarnio has a Ring in his living room for gentle rocking while viewing the lake outside.
Aarnio's Cognac V.S.O.P. chair (1966) is considered by many to be Aarnio's best chair. Guaranteed to keep its user upright until the last cognac of the evening. In 2008, Aarnio updated the chair to Cognac XO, a slightly bigger and more ergonomic version. Still made in Finland.
"As I was looking at the Ball chair I thought there was so much empty space, couldn't I fit something inside. I measured the Pastil to fit inside the Ball chair. The Ball chair is an upholstered and cushioned package for the Pastil. No one, however, has yet bought both." The Pastil won Eero Aarnio the American Industrual Design Award.
The Italian Magis came to Aarnio's home to ask Aarnio if he could design something for kids that was not a toy. The adorable Puppy (2005) was born. Every day lorry-loads of colourful puppies are shipped off to find new homes from Magis' puppy factory in Italy.