RESTAURANTS: Damn You Finns with Your Grub and Design
Finnjävel (The Finn Devil) bulldozes deep into Finnish food culture creating Haute Cuisine out of traditional dishes. The look of the restaurant is also interesting as everything is designed for the premises.
Restaurant Finnjävel will be open for exactly two years. Their website gives you the countdown by the day, minute and second. Restaurateurs Henri Alén and Timo Tuominen believe that two years is a perfect time for a restaurant. In April 2018 the restaurant will disappear or change form.
Finnjävel serves a fine dining version of traditional Finnish food. Some connoisseurs classify Finnish grub under the same category as its English brethren: joke. They simply have the wrong end of the stick, ignoramuses.

—Foreigners are often happy to have been served fine dining food that is clearly different from everywhere else, says Henri Alén. Alén and Tuominen toured Finland for a year learning everything about traditional foods and how to prepare them. Elderly ladies have revealed their recipes. Two tasting menus are on offer: seven or twelve courses. They exemplify traditional Finnish food à la Alén and Tuominen.
—Nyjävel (New Devil) nights on Mondays allow us to experiment on new courses, the best of which make it to the menu. Beef stew with dill, savoury carrot bake and [wheat] dumpling broth interest me at the moment, continues Alén.
The design of the restaurant goes hand in hand with the food. Ateljé Sotamaa, siblings Tuuli and Kivi Sotamaa, have created a design concept for the restaurant. The furniture, lighting, dishes, cutlery and even the sinks and taps in the bathroom are unique designs, 146 pieces altogether. Co-operation with the Sotamaas has been close. The first menu served as an inspiration for the dishes and cutlery. Many prototypes are also currently in development and can be taken into production fairly quickly. The design changes constantly as does the menu, says Alén.

But wait, there's more! The soundscape of the restaurant has been created by composer Tuomas Kantelinen. Some koparas anyone?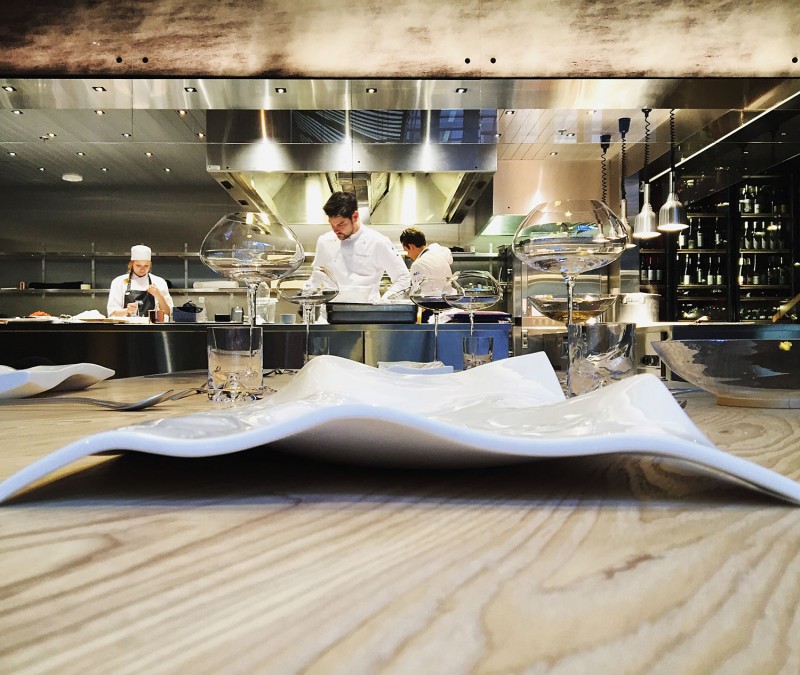 Finnjävel