RESTAURANTS: Restaurateurs
Bon App!
Such wonderful and distinctive restaurants! The ingredients and the chefs! Brilliant personalities! The wines! Oh Helsinki, what a city of restaurants you have become.
Five years ago there were signs of a rise of new restaurants in Helsinki, and today it is true. No one's counting Michelin stars anymore, although they're there; now everyone's counting excellent restaurants with personality, and there aren't enough fingers in your hands to keep count.
The turning point was in 2001 as two restaurants were awarded Michelin stars after a long while. Chez Dominique and G. W. Sundmans paved the road for fine dining. Chez Dominique even received a second star.
Star restaurants and runner-ups became an efficient school for gifted young cooks. A few years in a top restaurant encouraged the best to establish their own restaurants and create their own food ideologies.
The first avalanche of small restaurants helped out the next generation of chefs. Suddenly the town was full of interesting chefs de cuisine, fellows with a vision who had a jolly good time in their restaurants.
The change has not taken place solely in Helsinki, it is a global phenomenon. Eating out has become a hobby. Customers know what to demand. An even greater change is that Michelin stars and fine dining are not the only way to stardom anymore. Many top chefs want to use their expertise to create a more relaxed and simple dining out experience for our pleasure.
Eight Helsinki-based chefs and restaurateurs talk about their food ideology and their thoughts on how Helsinki became such a great restaurant city.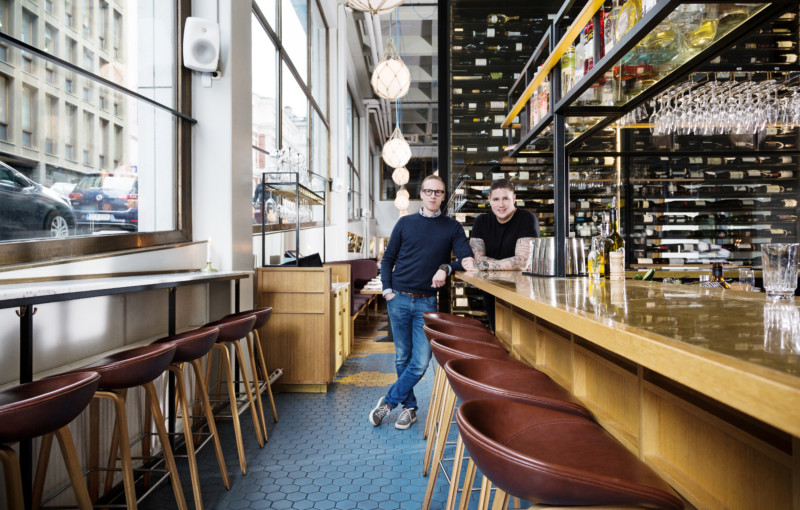 ​Tomi Björck​ & ​Matti Wikberg
We have one ideology: social eating and sharing food. We started it with our first restaurant, Farang, in 2009. We still apply it to all of our restaurants independent of the food concept.
We create restaurants that we would like to visit ourselves: high quality food and service in a relaxed environment. We believe that's the only honest way. Altogether, we have seven restaurants. There was never really a decision to increase the number of restaurants so this is a bit of a surprise to us. When we founded the business we set it right away in the plural: restaurants.
The quality of restaurants in Helsinki has risen sharply in the last 15 years, but to be honest the quality to begin with wasn't much to brag about, now we're at a good level. 
The development began in 2001 as Chez Dominique and G. W. Sundmans were awarded Michelin stars. Before that there was a seven-year break. The year was also the start of the rise of small restaurants. Young chefs first aimed at fine dining and moved on to quality fast casual dining and bistros. Now we're at a point where people look for hand-made, better fast food. 
Next summer we're looking at opening a deli and a restaurant at the new Grand Residence 21 on Korkeavuorenkatu.
Wikberg and Björck's company BW Restaurants also runs Farang at Kunstahalle Helsinki, Gaijin and Boulevard Social next to each other on Bulevardi, as well as restaurants Farang ja Jim Lim in Stockholm.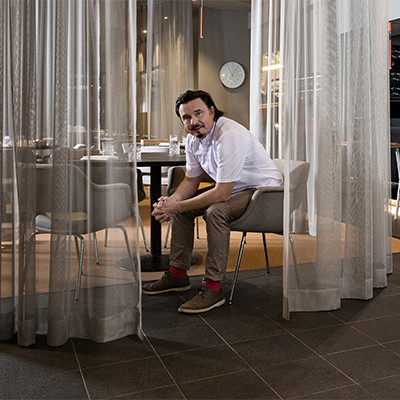 Pekka Terävä
Organic production is written in my DNA. At home I learnt from my mother that whatever you make is made for eating. You have to respect the ingredient. I don't like abundance and flaunt in food culture. 
Helsinki is a brilliant restaurant city. I think it's great that the development has been organic. Development comes from friends who want to create top restaurants. The young are brave and that's essential. Whether they're more skilled than the earlier generation, only time will tell. I believe restaurants don't compete with each other, they compete over people's freetime. People need time for themselves and their families, time to eat out and enjoy time together. 
Emo's building on Kasarmikatu is under renovation so we would have had to move anyway. It was a coincidence that we found a new place at Hotel Kämp. Emo continues as a European restaurant. Perhaps with a little added craftsmanship. The difference to my other restaurant, Olo, is clear. Olo is very much Nordic.
Olo.
The very Nordic restaurant.
Tue–Fri 11:30–15 & 18–24, Sat 18–24.
Pohjoisesplanadi 5. olo-ravintola.fi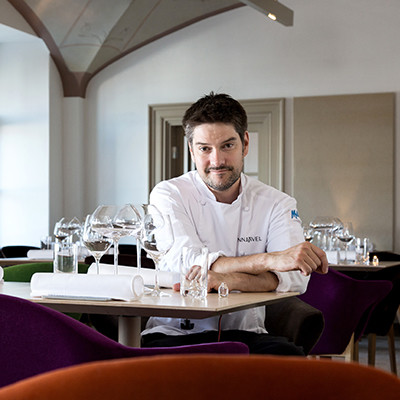 Henri Alén
I appreciate pure tastes in food. The main ingredient has to be so good that you need nothing to cover it up. 
There are many distinctive restaurants in Helsinki. Finnish chefs travel a lot, work abroad and train themselves. It is passion for good food. Customers are really quite demanding. That's good, otherwise restaurants wouldn't develop. 
Housing co-ops in Helsinki are much more favourable towards restaurants opening up because that doesn't equal pubs and cheap pizza anymore. I think it's brilliant that new restaurants are opened outside the city centre. 
If Helsinki wants to develop as a restaurant city, good service is of the essence. There is good food everywhere but good and competent service is what makes the difference. Personality is a trend but you also need expertise. 
Only the passion to try out something new makes me want to open a new restaurant. I'm certain there are misses but you have to be excited. When you can wrap up the idea of a restaurant in one sentence you know it's ready. If you have to explain, it's still raw.
Alén also runs restaurant Muru on Fredrikinkatu and Petit Pastis on Pieni Roobertinkatu.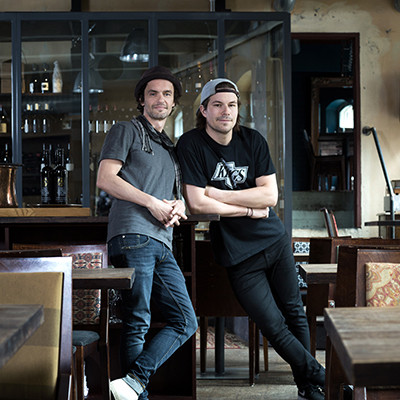 Kalle Kiukainen & Nicolas Thieulon
Joy and sharing are our top priorities! You need to give the customer a positive feeling, that's the bottom line. 
Today people are talking about organic and ethical production, we think they ought to be self-evident concepts at restaurants. 
When the basics are clear you can concentrate on other matters. For us they are organic wines made by valued producers. 
There are many restaurants in Helsinki that resemble their owners, brave restaurateurs who dare realize their visions. That's brilliant. Helsinkians also eat out more than before. It's good to enjoy great food and social moments together.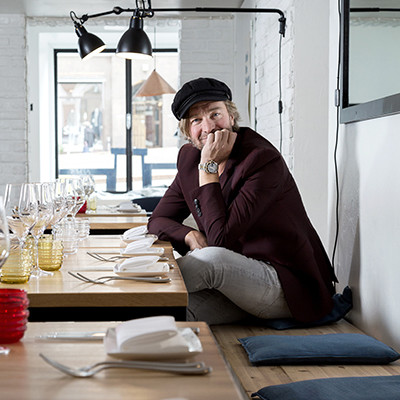 Kim Heiniö
When I found a restaurant I want to do something unique that no one has done before. I have founded 35 restaurants in 20 years. I've been consulted on nearly a hundred restaurants. Yet I still love it when I see customers enjoy themselves at a restaurant, it warms my heart. 
Helsinkians travel a lot and they know what to demand from a restaurant. Competition is tough. You need to be unique and constantly hot up quality in everything. 
The restaurant business has become sexy. Restaurateurs and chefs are like rock stars today, which in spires people to become chefs, and it's good for the business. 
It's much easier and cheaper to found a restaurant now. Earlier you needed money, now you need to be creative and personal. There are more spaces and a restaurant gives added value to a building. As restaurants need to compete more. That is excellent news for the customer.
Heiniö currently runs 20 restaurants, including Ateneum Bistro at the eponymous museum, Allas Café, Southpark as well as the Lucky Bastard and Dylan restaurant groups.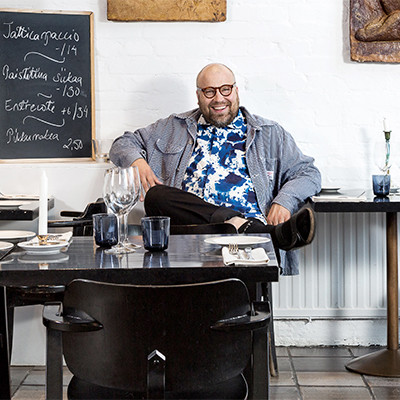 Antto Melasniemi
I get easily bored and want to try out and come up with new food and restaurant concepts. I have been involved in many projects and pop-ups. They've given me a chance to experiment on some wilder concepts. 
I don't even call myself a chef de cuisine anymore, all my restaurants have their own chefs. Together with my business partner, Heikki Purhonen, I run five different restaurants. 
Hospitality is all in all in a restaurant. I don't like tepid, stylish things, I need to feel the potency, something around which you can build a concept. Emotion first, trust your instincts but never forget unpredictability. 
It is most rewarding to see people enjoy themselves at a restaurant. I always get pleasure from other people having fun, that is a strength in everything I do.
Antto Melasniemi also runs restaurant Kuurna on Meritullinkatu, the pizzeria Puttes on Kalevankatu, Restaurant KOM on Korkeavuorenkatu and Jackie on Iso Roobertinkatu.