STREETWISE: Fredrikinkatu
Just Call Me Freda
The long and gorgeous Fredrikinkatu stretches through three districts in Helsinki. A true fashionista cannot give Freda a miss.
Freda is the fashionista's home street. Not a single international clothes' chain, only small boutiques to the left and right. Clothes, home textiles, beautiful items, shoes, jewellery, watches, evening dresses, stationery, giftpaper, more clothes, coffee and an optician. A visit to a side street offers a lot more, too.
Raise your gaze from the shop windows to view the Jugend buildings, a more robust form of Art Nouveau, that emerged in the beginning of the 20th century in Helsinki. There are many of them on Freda. Towers, bay windows, granite and ornaments in the National Romantic style, you may even spot a gargoyle.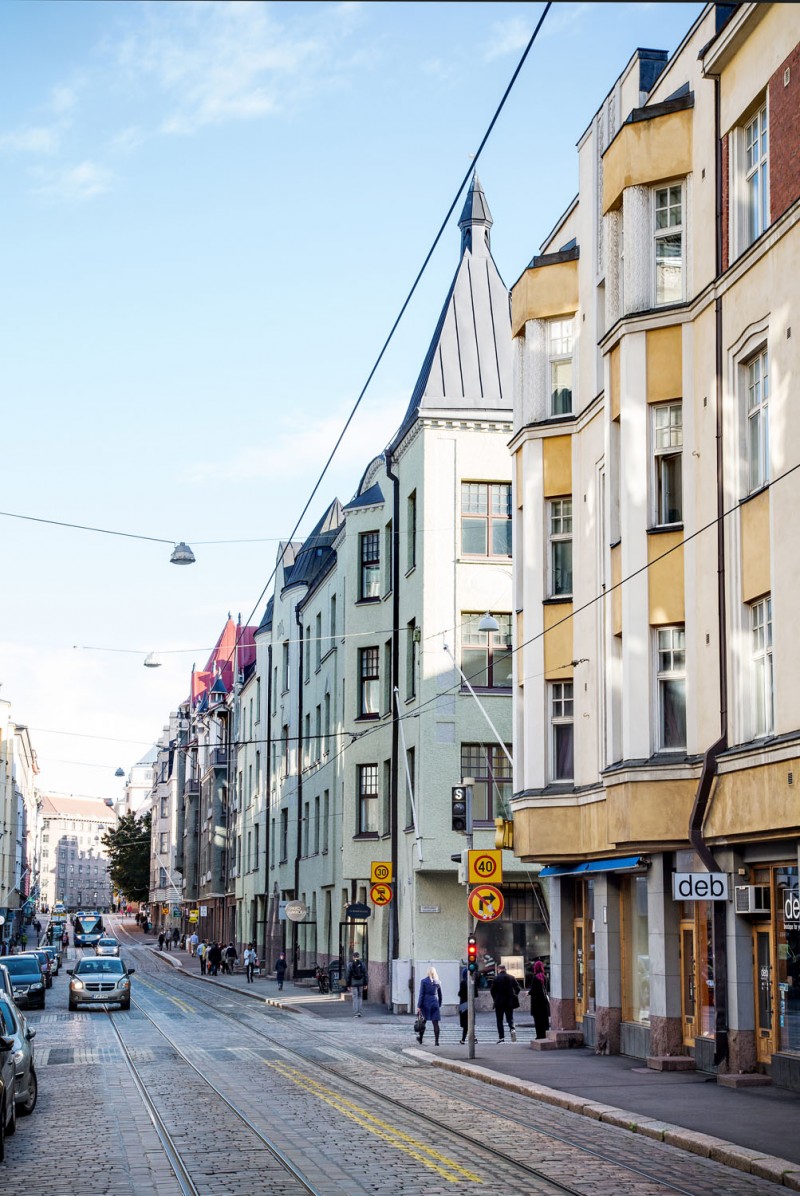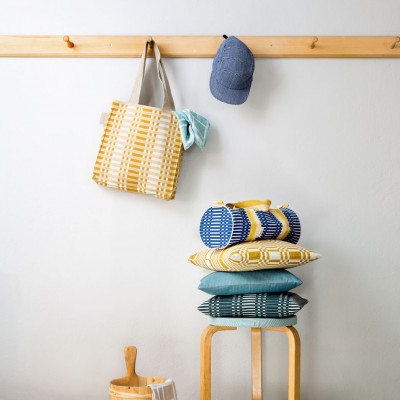 NATURAL BORN WEAVER
Johanna Gullichsen's Textile Craft & Design shop is in a Jugend building designed by Herman Gesellius and Eliel Saarinen. The cornershop offers a unique view of Fredantori, the one and only piazza in town, well, at least in the summer.
Gullichsen's fabrics are extremely Nordic in style, straightforward and minimalist, showing the signs of weaving tradition. This is how materials have been woven forever while the current time gives it its own twist.
The two-sided cotton textiles are woven in Pohjanmaa. The material is then used for sewing interior textiles and bags in Helsinki, Turku and Somero.
The other founder of Artek, patron Maire Gullichsen, was Johanna's grandmother. Gullichsen's sofa cushions are the most beautiful in the world, especially on an Artek sofa.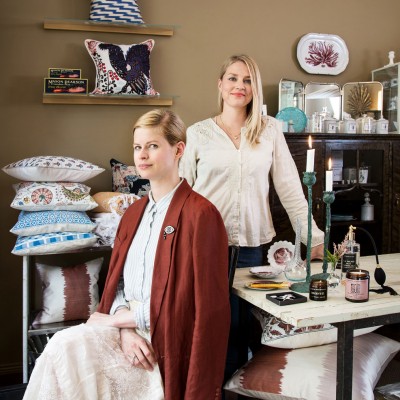 SPARKLING JOY
Actually you don't really need anything that Proloque has on offer. Scented candles by Fornasetti Profumi and Astier Villatte, notebooks by Liberty, small vintage treasures and hamam towels, yet you cannot resist the lure.
That is exactly how Elsa Vilén and Nora Hellberg (pictured) want it to be in their shop. You can never quite know what
wonderful things are coming up next. 
Don't fight it. The Japanese queen of decluttering, Marie Kondo, says that if an item sparks joy it is yours. 
Proloque is just off Fredrikinkatu, just follow your instincts and the street talkers.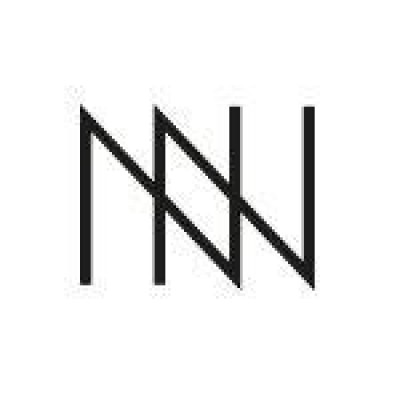 BLACK IS BLACK
Niina and Timo Leskelä founded Nomen Nescio four years ago.
—We wanted a level-headed start. At first we concentrated on men's clothing but now we offer a unisex collection, says Niina Leskelä.
Most of the collection is permanent but there is something new every season. The renewal of the collection every six months would be against the ideology of Nomen Nescio. The prominent colour of the collection is black and the most colourful clothes are dark grey. Personality adds to the piece of clothing not the other way around.
—One customer put it very neatly: even though we wear similar clothes we don't look alike at all, Niina Leskelä
sums up.
This is true minimalism: Nomen Nescio is printed on the black label so dimly that you have to know it is there to find it.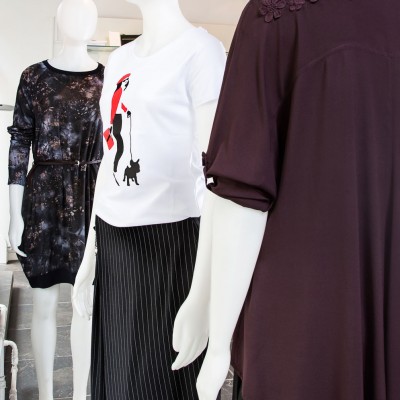 WE ARE FAMILY
—How is it possible to work with your sister for 13 years? It's easy when you work in different places, says one of the founders of Asuna, Sari Alamettälä.
They both have a strong sense of taste and both views are essential: Sari is a minimalist and Marianne Alamettälä is
not. Decisions and purchases are made together. The strong style of the designer is important for them. How the various
styles of designers meet in their shop is up to Sari and Marianna.
—In principle every piece of clothing can be washed at home, says Sari. Despite their rationality they stock clothes fit for the connoisseur: Comme des garçons, High By Claire Campbell, Rundholz, Margaux Lonnberg, Lille, Whitetail.
Now is the time to follow Tuomas Merikoski's Aalto, hints Sari.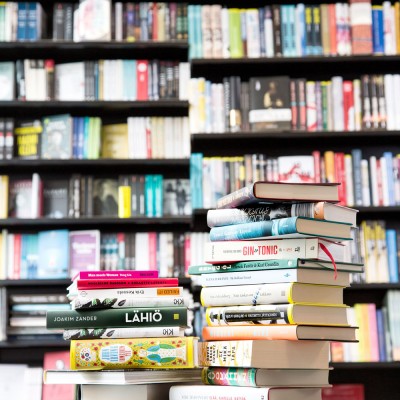 BOOKABOO!
Nide bookshop has shown what it's like to be a bookshop in the 2010s.
Of course they sell books, that's the core of the business, but the most important part is to get people into the shop. Electronic books are all form and function yet the atmosphere of a bookshop is something different and you can't hang out in an electronic bookshop. Nor could one organize the variety of events, such as study circles, which regularly fill Nide to the seams.

Nide is bustling as the locals pick up books for themselves and their bebés. The shop also offers the most recent and
fashionable collection of Bugaboo prams, since the future Nide customers are still very small.
If a book seems too heavy look for the Kehvola postcards on sale in Nide. Timo Mänttäri's drawings show the essence of Helsinki, just add a stamp.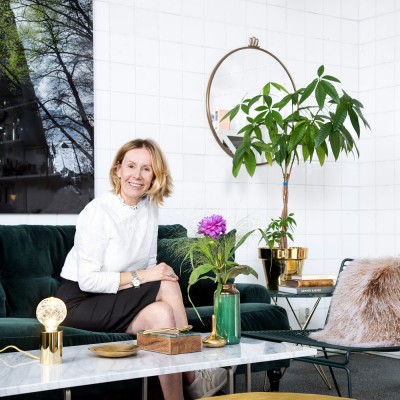 Z FOR ZARRO
Once you've seen enough Nordic birch and plywood design, visit Zarro.
The spirit and heart of Zarro is its founder Irene Lemmetti-Haaranen (pictured), whose nose for trends and sense of style
are impeccable. You can get elegant Italian and Scandinavian design anywhere in the world but nowhere else is it picked and curated as wonderfully as in Zarro. No wonder that the shop is the favourite of interior designers, some customers come here from Stockholm.

The hard-working girl herself or her well-known blogger daughter Alexa are almost always present.
DO NOT MISS THESE
Lunch at Vivo's Deli. Fredrikinkatu 27. Mon–Sat 10–22. There is always room for the plat du jour at Vivo's Deli. Shawarma and other Lebanese foods. The charming Viviane Kallio herself is often behind the till.
Andante. Mon–Fri 11–18, Sat–Sun 11–17.30. Fredrikinkatu 20.