STREETWISE: Korkeavuorenkatu
The Pearl of Ullanlinna
Korkeavuorenkatu in Ullanlinna is the spitting image of a classic super model: tall, slim, a great personality and unforgettable.
The shopping strip of Korkeavuorenkatu starts from the Design Museum: coffee, fashion, gourmet coffee, design, good coffee, vintage, special coffee, flowers and coffee. Korkeavuorenkatu is Ullanlinna's high street par excellence. You can find everything here except perhaps for a car. And besides, the fanciest and most affluent residential streets of Helsinki are in Ullanlinna.
Part of the glow of Korkeavuorenkatu flows to the side streets: Tarkk'ampujankatu, Jääkärinkatu and Kapteeninkatu. Just a bit of curiosity will lead you to check them out.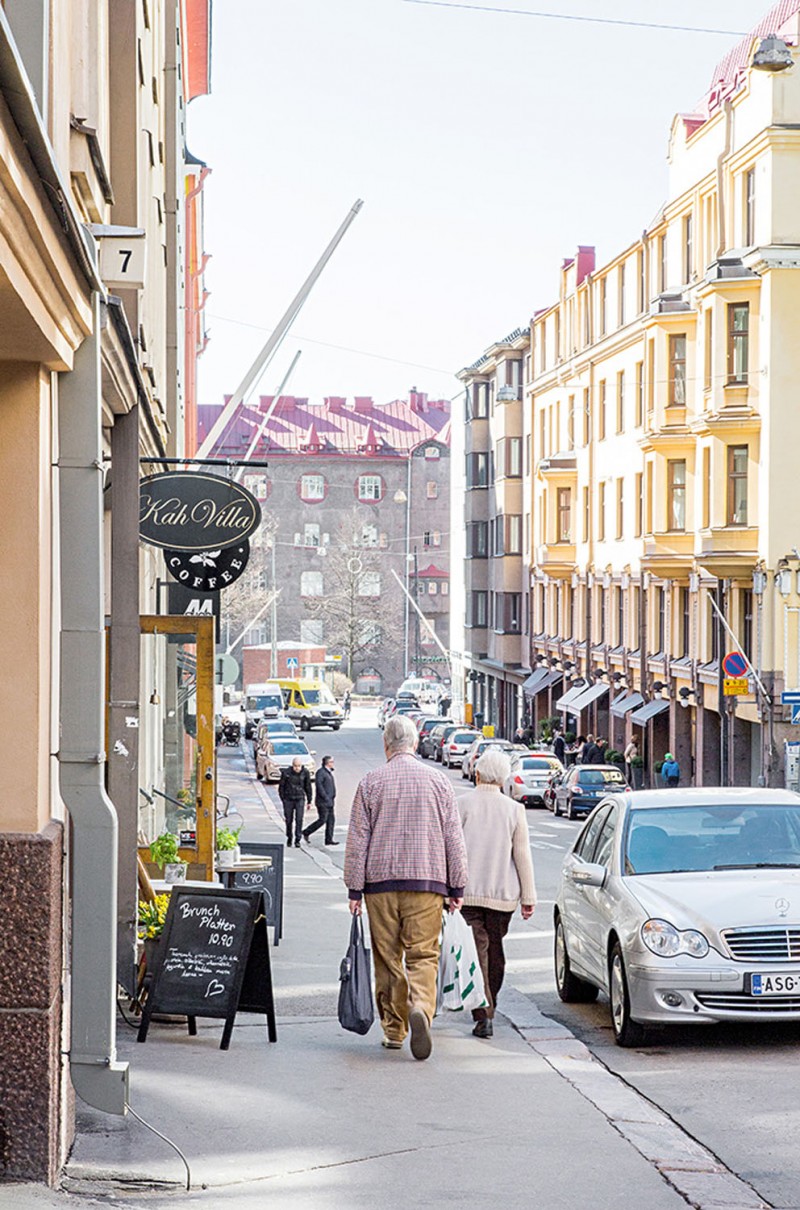 STREETWISE: Korkeavuorenkatu
Vuokko Shop. Korkeavuorenkatu 4. Tel. +358 9 628 444
Maxill. Local hangout with scandinavian french kitchen. Mon–Tue 11.30–24, Wed–Fri 11.30–01, Sat 13–01. Korkeavuorenkatu 4.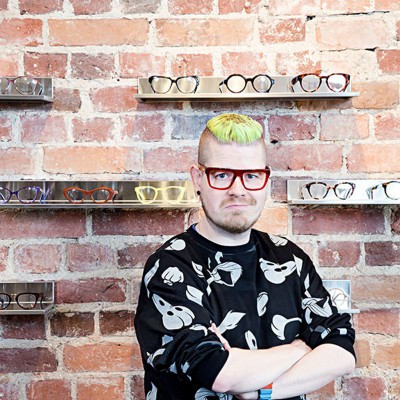 OPTICIAN AND PROUD OF IT
Helsinkians love unique spectacle frames. While chain opticians dominate the rest of the country Helsinkians want something completely different. Therefore the city is packed with small independent opticians with unbelievably progressive selections of frames and laudable customer service.
—I choose the frames, design and realize the window decorations, I've also designed the interior. I do everything myself apart from the accounting, laughs Esa Ylikelloniemi, owner of Proud Optiikka. 
He sports a neon yellow crew cut and Adidas Original Jeremy Scott Instinct Tartan trainers. Esa is what he sells, a wide selection of choices. The shelves carry, among others, Carrera, Derek Lami, Gött, Superdry, Balenciaga, Céline and ic! Berlin frames. There are no gender-specific sections, only frames.
Esa is especially proud of his Tom Ford collection and the wide range of sunglasses. He is also excited by Casio's colourful G-Shock watches, which means they are on offer as well.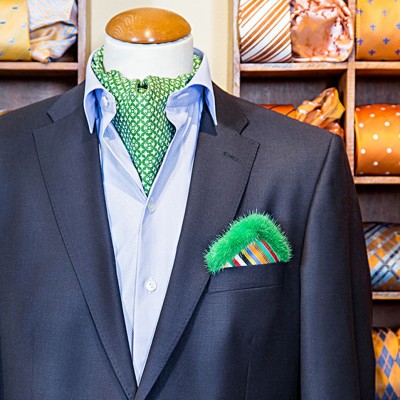 TIE CANDY
Tua Backman's Bretelle shop is a candy shop for men. They have nearly everything a man needs to dress to kill: quality shirts for different occasions, silk ties, bowties, handkerchiefs and even collar stiffeners if you are in need of a pair. Good advice, Tua's great eye for detail and colour, as well as her knowledge on dress code are part of the deal. The ladies and gentlemen of Ullanlinna have put their trust on her as the boutique has been in the same place for nearly twenty years.
—Almost everything is our own production. The products are designed in Finland and made in Europe. The ties, bowties and handkerchiefs are woven out of hand-dyed silk in Como in Italy, says Tua.
Tua's favourite product is the handkerchief. People should use them much more often.
—You can't have too many of them. I go around teaching people how to use and fold handkerchiefs, laughs Tua. The only
function of the men's breast pocket is to contain the handkerchief, and what better chance to play around with colours and patterns. Shall we fold the hankie into a London, Paris or a New York?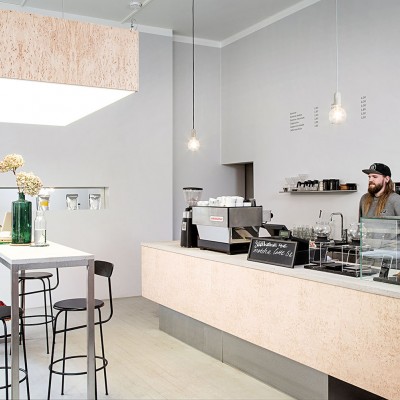 COFFEE ANYONE?
–Hi there, how are you? Would you like the best latte ever? calls out Nico, the barista of Mood Coffee Roastery, from behind the bar.
His audacity forces me to want to give it a go. The coffee menu on the wall is short but intensive, coffee is made with various apparatuses. Tea is also available as are the city's most famous croissants baked by Julien Petitpas.
Mood arrived in Ullanlinna right beside the final stop of the number 10 tram  at the beginning of the year. The infallible Helsinki coffee devotees found it immediately. The coffee was familiar from the start, being roasted by Felipe De Alvarenga and Ivan Prohoro in Tattarisuo for the past 18 months.
The interior is expressionless and minimalist without being dull: concrete table tops and a wooden floor, all very up-to-date. The design is by Christa Björkstam and Linus Vuorio. The airy seating arrangement as well as the bar stools are by the Danish Hey studio.
The tall communal table is perfect for viewing passers-by running for the tram while sipping on the best latte in the world in perfect harmony.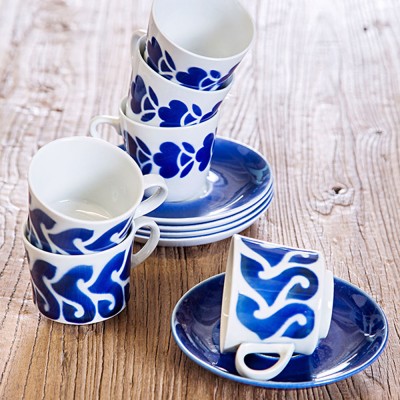 GREETINGS FROM HELSINKIAN HOMES
Bravely step in. Helsinki Secondhand is a combination of flea market, antique shop and unofficial museum of Finnish lifestyle. The shelves are full of Finnish everyday glassware, design glass, Sarpaneva, Wirkkala, Franck, Saara Hopea, renowned names come together with less-renowned names. Dishes, cutlery, crockery, pots, pans, everything Finns have had in their homes.
Now the trendy townsfolk seek two things in particular: cutlery and coffee cups. Kaj Franck's original Scandia range cutlery from 1952 is most sought after. The original range is different from the reproduction in size, being slightly smaller.
Helsinki coffee enthusiasts would rather drink their locally roasted coffee out of Arabia's 1970s colourfully decorated coffee cups.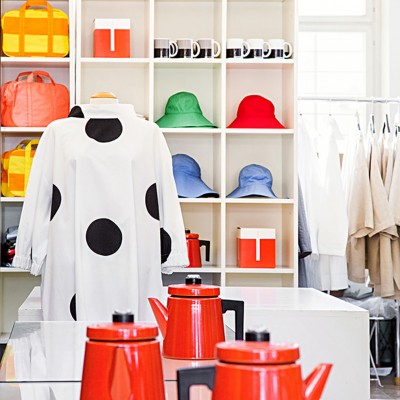 VUOKKO RULES
Oh Vuokko! Fashion designer Vuokko Eskolin-Nurmesniemi is a legend. The woman who freed her sisters from pleats, folds, hooks and buttons found in the most curious places. Vuokko (anemone in English) introduced much more simple cuts, velcro, zippers and press studs into women's clothing. Long live freedom! Even if it has been over 50 years, Vuokko's charm does not fade. Miuccia Prada, Yohji Yamamoto and Issey Miyake all own up to being Vuokko fans.
Vuokko's boutique celebrates her 'anemoneness': the classics hold their ground, Pyörre fabric alongside vertical and horizontal stripes. On sale are also two iconic designs by Vuokko's dear partner, Antti Nurmesniemi: the Pehtoori pan and the Sauna stool.
Psst. One of the most best-kept secrets in Ullanlinna is that Vuokko often hangs out in her shop on Saturdays. Although there may be many women dressed in Vuokko, make no mistake: Vuokko has a pageboy haircut, signature spectacles and an incredibly bright gaze.